Deleteing your ad....Please wait....
Please do NOT close the browser or click any links until this process has completed.
For Sale > General Items > Other
Ad Number: 223359
Location: Behchoko, NT
Posted: Feb 2nd 2023 at 2:11pm
---

Weatherby 30-06 Springfield with scope
Excellent condition. Weatherby vanguard 2 bolt action, 30-06 Springfield with Leopold revenge 3x9 42mm 
Sub MOA guaranteed by Weatherby at .99 at 100.
I have Hornaby, Federal 140,160,q80 grain, tough carry case and bipod.
This rifle is one of the most highly recommended firearms dollar for dollar on the market today. 
Very accurate and amazing performance even at extreme cold. Very lucky rifle.  
Price: $
1,325.00 or best offer
Contact Info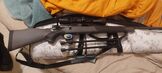 Ad Stats:
---
viewed: 544 times, printed: 19 times, on 3 watchlists, emailed to 0 friends, emailed to 7 watchlists
---