Deleteing your ad....Please wait....
Please do NOT close the browser or click any links until this process has completed.
Job Openings > Accounting, Mgmt
Ad Number: 221780
Location: Yellowknife, NT
Posted: Sep 8th 2022 at 10:05am
---
Executive Director
The Unit is seeking an experienced, collegial individual to lead the day to day management and leadership of a small, dynamic organization focused on supporting NWT communities, individuals, and health researchers to increase health research and training capacity. Applicants should demonstrate progressively responsible experience in staff and operational management, a Master's or Bachelor's degree in any field.
Excellent staff and project management, writing, verbal communication, and analytical skills are required. The incumbent will show a strong commitment to cultural safety, and have a mature and responsible commitment to fulfilling administrative requirements of the role.
The incumbent will be required to work at the Hotıì ts'eeda office. Secondments from other governments and organizations welcome. This full-time term position is 35 hours per week, and rated at Level 9 ($63.02 – $76.68 per hour) on the Tłįchǫ Government salary scale, plus benefits. 
To apply, please send a resume and cover letter to: hr@tlicho.com
For a job description, please visit: https://nwtspor.ca/about/employment-opportunities
Contact Info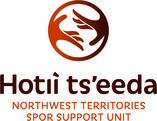 Ad Stats:
---
viewed: 114 times, printed: 10 times, on 0 watchlists, emailed to 0 friends, emailed to 0 watchlists
---