Deleteing your ad....Please wait....
Please do NOT close the browser or click any links until this process has completed.
For Sale > General Items > Toys, games
Ad Number: 220257
Location: Yellowknife, NT
Posted: Aug 3rd 2022 at 12:22pm
---
Beyblade Stadium and Beyblades
Beyblade Stadium and 9 beyblades plus lots of extras. 
Tons of fun and in really great shape!!

Great price considering original price.
Contact Info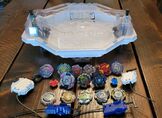 Ad Stats:
---
viewed: 81 times, printed: 9 times, on 0 watchlists, emailed to 0 friends, emailed to 0 watchlists
---