Deleteing your ad....Please wait....
Please do NOT close the browser or click any links until this process has completed.
For Sale > Vehicles > Other
Ad Number: 218920
Location: Yellowknife, NT
Posted: May 17th 2022 at 6am
---

Heavy-Duty 30ft Gooseneck Trailer For Sale
Manufactured by Load Trail. Attached tool box. Lightly used. Recently had a fresh coat of paint. 21,000lbs  GVWR. 7000lb axles. 
Contact Info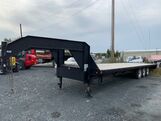 Ad Stats:
---
viewed: 236 times, printed: 10 times, on 0 watchlists, emailed to 0 friends, emailed to 0 watchlists
---